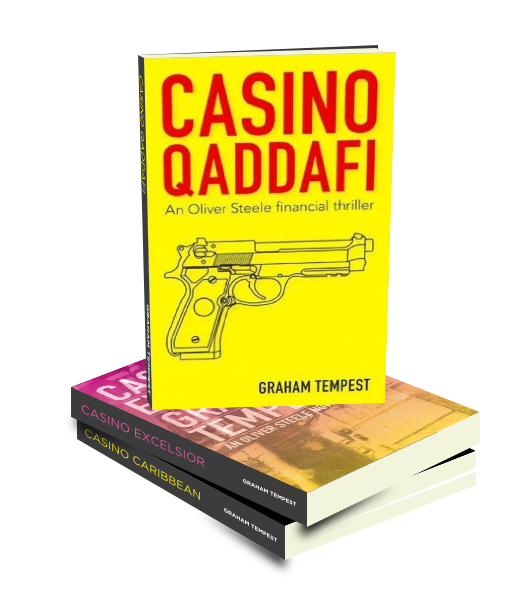 THE PAGES FLY BY . . .
Read CASINO CARIBBEAN, the first novel in the Casino series, free of charge
Send my Free Book
BOOKS
"Tempest ratchets up the intensity . . . Relentless pacing . . .  Like 007 with a CPA card."  Kirkus Reviews (CQ)
"Exciting read . . . Hard to put down."  Midwest Book Review (CC)
"Great plot twists . . . Like a game of chess." Kirsten Gilbert Krenicky (CX)
Graham Tempest is an accountant and novelist based in Florida.
After a seesaw British education at eight different schools he squeaked into Cambridge by the skin of his teeth and spent his college days writing for the university newspaper and boating on the Cam; he was a co-owner of the dark green punt George F. Babbitt.
He graduated as a mechanical engineer, switched to accounting and worked for an investment bank in London. He later moved to Los Angeles as a CPA in Santa Monica specialising in taxation. Along the way he discovered Tortola in the British Virgin Islands, the home of Oliver Steele's wealthy client Tisch. He divides his time between Florida and Oxfordshire playing hit-and-miss golf on both sides of the Atlantic.
Steele, the central character in the CASINO novels, is an accountant with a shady past and Tempest admits to a resemblance. Addicted to travel, he has visited most of the same places as Steele.
BLOG
Check here for announcements, offers and news items of interest.
Our PRIVACY POLICY is at grahamtempest.com/privacy
The Central Bank of Libya is holding $184 million of gold and silver coins bearing the face of the late Col. Qaddafi in a 48-year-old British-made vault which they can't get open. A rival government has the code. Khaled, a safecracker, has been hired to help but... read more